ITA Master Appointed Flight Controller For Space Station

HOUSTON, TX - Master Philip C. Curell has been assigned to be one of the flight controllers for the Space Station. Master Curell completed his Masters Degree at the University of Texas. He is an aerospace engineer working for NASA.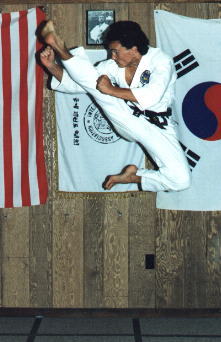 Master Curell and his family, wife Renee and daughter Kelly, have had to endure several hardships in order for him to complete his university studies. The journey was indeed well worth the sacrafices. He is an example of the "indomitable spirit" of Tae Kwon Do.
Master Curell, in addition to his family and job responsibilities, created and maintains the web site for the KMAI (Korean Martial Arts Institute), which is world training heaquarters for the International TaeKwon-Do Association.
It was Master Philip Curell's mother, Master Anne-Marie J. Curell, who founded the KMAI. His father, Master Nelson Curell, was the Promotional Director for the International TaeKwon-Do Association.
He has created an excellent set of hyung (pattern) charts which may be viewed at the KMAI website and purchased from the KMAI. If you are not sure of the correct movements of your patterns, we highly recommend going to the KMAI site and viewing this charts.
Everyone has their own idea of what the "perfect" vocation would be for him or her. A job you look forward to going to everyday. A job which, when done well, leaves you with of sense of satisfaction. Not just self-satisfaction, but the satisfaction that comes from knowing you have helped others and made the world a better place in which to live. Master Philip Curell has found his vocation. He has reached high to attain his dream and has found it in the stars.