International TaeKwon-Do Association Comes To Scotland

DUMBARTON, WEST DUNBARTONSHIRE, SCOTLAND -

International TaeKwon-Do Association has come to Scotland with the establishment of the SITA (Scottish Independent TaeKwon-Do Association) in Dumnbarton, West Dunbartonshire, Scotland. Mr. Thomas Leino, 3rd degree black belt, is the head instructor of the dojang (school).
Mr. Leino continues to expand ITA's presence in Scotland by enlightening other Tae Kwon Do schools in his country to the benefits of International TaeKwon-Do Association membership and certification.
Scottish Independent TaeKwon-Do Association members
training under the watchful eye of Thomas Leino, Head Instructor.
(back row - left to right) Kris Cairney, Andrew McInnes, Angela Cairney, Aaron Murphy.
(front row - left to right) Arthur Scrase, Bryan Murphy, and Joseph Miller.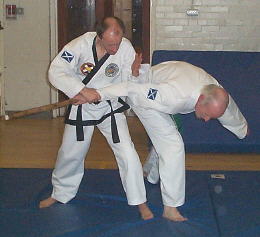 Thomas Leino, SITA President, defends against a tahn bong (short stick) attack, delivered by Arthur Scrase.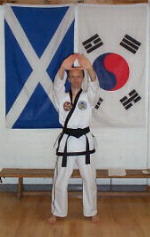 Thomas Leino prepares to demonstrate the tenth pattern in Tae Kwon Do, Kwang-Gae.