Mastering the Samurai Sword
A Step-by-Step Guide
by Cary Nemeroff

---
Overview
Includes instructional DVD.

People the world over are fascinated by the legends of the fearsome Japanese samurai warriors and their skill with the sword. While the samurai themselves may no longer exist, the enduring legacy of samurai swordsmanship lives on. It is still taught and used today in the martial arts iai-jutsu and ken-jutsu.

Mastering the Samurai Sword is a guide to the intriguing and challenging skills of learning about the samurai sword. A introduction to the samurai sword, this instructional guide not only covers the history, evolution and philosophy of the classic samurai weapon, but also provides practical guidance for learning the samurai sword yourself.

Beginners will learn everything from proper uniform to wear and behavior in the training hall, to how they might practice at home, while more experienced users of the samurai sword will find a new appreciation for the deeper meaning and tradition behind the graceful way of the sword.



Author Biography
Cary Nemeroff holds a B.A. degree in Philosophy and Hebrew and Judaic Studies from New York University and an M.A. degree in Deaf Education from Teachers College, Columbia University.

Over the course of 35 years he has earned many master-level Asian accredited martial arts ranks and has been teaching the martial arts for 25 years.

He founded the Fukasa-Ryu Bujutsu Kai (Profound System of Martial Arts Association) in 2008.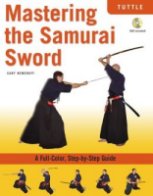 ISBN: 13: 9780804839556
Illustrations: Color photos
Pages: 224
Format: Paperback with DVD
Size: Width 8.40" Height 10.90"
Contact: goodreads.com

Rating: