Korean Karate
Free Fighting Techniques
by Sihak Henry Cho

---
Overview
This is a "classic" martial arts book. The techniques are just as useful today as they were when the book first came out in 1968.

Illustrated with nearly 1,000 photographs, the systematic and scientific approach of the application of each karate move in Free Style Fighting with when, where, why, and how should help martial arts practitioners everywhere to develop and master their moves to suit free sparring tactics.

In this book, the pin-point explanation of the advantages and disadvantages of each move, analyzed step by step from many different offensive, defensive, and counterattacking angles.

The book also helps guide readers on how to deal with and adjust to the techniques specific to of any karate style, regardless of their differences.

This book is one of the first of its kind on Tae-Kwon Do (Korean Karate). Karate practitioners who recognize this to be one of the primary works to specifically address Free Fighting techniques.

This detailed text is organized into nine sections.

Section One features a brief overview on the development of Japanese Karate and Korean Karate (Tae-Kwon Do).

Section Two addresses calisthenics and stances.

Section Three offers some basic free fighting strategies and foot moves.

Section Four presents blocking techniques.

Section Five shows the applications of hand techniques.

Section Six features a variety of front kick methods.

Section Seven deals with variations of side-kick techniques.

Part Eight covered roundhouse kicking techniques.

Section Nine features unique kicks such as knee and stamping kicks.

Author Biography
Sihak Henry Cho (1934-2012) was a 9th degree Grandmaster in Tae Kwon Do and widely recognized as one of a "handful" of originators who introduced martial arts into the United States.

Grandmaster Cho was awarded the 2011 Lifetime Achievement award by the President's Council on Fitness, Sports and Nutrition in recognition for his contribution to the advancement and promotion of physical activity, fitness, sports and nutrition-related programs nationwide through Tae Kwon Do.

9th Degree Tae Kwon Do Grandmaster.
Member of Ji Do Kwan since 1953.
Captain of the Korea University Tae Kwon Do (Kong Soo Do) team, 1956-1957.
Came to the United States in 1958.
Bachelor of Science in Commerce & Marketing , Korea University, Seoul , Korea , 1957.
Master of Science in Business Management, University of Illinois , Urbana , Ill. , 1961.
Graduate Studies in Statistics, Baruch College , CUNY, NY, 1962-1964.

Operated the first commercially viable martial arts studio in Manhattan for 40 years, from 1961 to 2001.

Organized and presented the annual All American Open Tae Kwon Do/ Karate/Kung-Fu Championship Tournament for 47 years, from 1965 to 2012, which was held in Madison Square Garden Center for 23 years.

Tae Kwon Do Coach at St. John's University, Jamaica , NY, from 1967-2012.

Assistant Professor and full-time faculty member of the Physical Education Department at Queensborough Community College, 1974-1977.

Martial Arts instructor at Baruch College , the City University of New York , New York, NY, 1968-1974.

Martial Arts instructor at Pratt Institute, Brooklyn, NY, 1966-1968.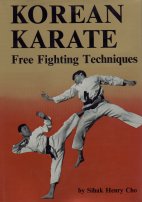 ISBN: 0-8048-0350-1
Illustrations: Over 1,000 B&W photographs
Pages: 249
Format: Hardbound
Size: Width 7 1/2 " x Height 10 "
Contact: barnes & noble

Rating: