Matayoshi Shinpo's Traditional
Okinawan Kobudo (Weapons)
by Master Matayoshi Shinpo

---
Overview
Okinawan Legendary Kobudo Master Matayoshi Shinpo, was filmed shorty before his untimely death in September 1997. Master Matayoshi along with his senior students, perform many of the traditional Okiawan weapons forms that he was taught fy his father Matayoshi Shinko.

On this video you will learn these forms as well as sparring drills. The forms and techniques are for all levels and styles from beginner to black belt.

Each pattern is shown from several different angles to help the viewer gain a clear understanding of each form. This DVD would be a welcome addition to any martial artist's collection no matter what style he/she is learning.

There is and introduction and the history of the Art in English, however the rest of the presentation is in Japanese. There is no narration or explanation of the movements in the katas.

Author Biography
Matayoshi Shinpo Sensei, son of Matayoshi Shinko Sensei and successor to the Matayoshi line of Kobudo, was born in Okinawa in Yomitan Village, located in the Kina District on December 27, 1921. Shinpo Sensei was introduced to the martial arts by his father at the very young age of 6. However, Matayoshi Shinko Sensei did not limit his son to the practice of Kobudo; he also exposed Shinpo Sensei to Kingai Ryu, a White Crane open hand system.

In 1937, Shinpo Sensei's father also introduced him to the open hand system of Hakaku Kempo, which he learned from Gokenki Sensei. Although Shinpo Sensei would have various instructors throughout his life, his father remained his life-long instructor and mentor.

Once Matayoshi Sensei opened his dojo, he focused on contacting Kobudo instructors and students all over Japan. His intention was to unite Kobudo practitioners under one goal; to not only to spread the art of Kobudo, but also to try to maintain the traditions that had been passed down from Kobudo Senseis of earlier days.

Matayoshi Sensei had a strong interest in promoting Kobudo among young students to help make them better citizens and contributors to society. As a result of this interest, Matayoshi Sensei formed the Ryukyu Kobudo Association in 1960. This association became the foundation of the Zen Okinawa Renmei or All Okinawa Kobudo League, which formed in 1972 and still exists today.

Matayoshi Shinpo Sensei passed away in Okinawa on September 7, 1997, at the age of 76.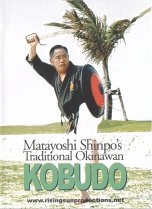 ISBN: N/A
Run Time: 55 min.
Number of Discs: 1
Language: Japanese (English Intro)
Format: NTSC
Contact: Martial Arts Supermarket

Rating: