Isshinryu Weapon Kata:
Bo and Sai
by Mike Reeves

---
Overview
The bo and sai are two of the oldest traditional Karate weapons. On the Isshinryu Weapon Kata: Bo and Sai DVD, Sensei Mike Reeves teaches you five Isshinryu Kata, three for the bo, one for the sai plus a two person bo set to practice your offense and defense skills.

Learn the empty kata of Isshinryu Karate from Sensei Mike Reeves. Each kata is demonstrated from the front, rear, side and above with thorough instruction making this an excellent learning aid for at home practice and review.

Learn each of the following kata:
Seisan Kata
Seiuchin Kata
Naihanchi Kata
Wansu Kata
Chinto Kata
Sanchin Kata
Kusanku Kata
Sunsu Kata
This DVD is fully indexed so you can go directly to the kata you want to practice, making it ideal for home study, testing requirements and competition.

Biography
Sensei Mike Reeves is a nine-time International Sport Karate Association World Karate Champion, as well as a four-time Guinness-certified world record holder in breaking.

He has worked as a professional bodyguard as well as a martial arts instructor to key members of both local and federal law enforcement agency SWAT teams and other special operations units.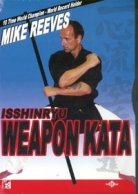 ISBN: N/A
Run Time: 72 min.
Number of Discs: 1
Language: English
Format: NTSC
Contact: New Hope Martial Arts Supplies

Rating: