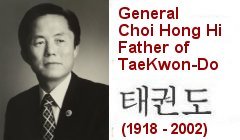 General Choi Hong Hi

, founder and president of the International TaeKwon-Do Federation, passed away at 8:35 pm on June 15, 2002, in Pyongyang, North Korea. The General was 83 at the time of his death.
General Choi was born in 1918, in Kilju, North Korea. He was laid to rest on June 17, 2002 in Pyongyang, North Korea. Because General Choi was a Buddhist, a traditional memorial service took place in Pyongyang 100 days after his passing.
General Choi is survived by his wife, son, Choi Jung Hwa, two daughters, and his grandchildren, who all live in Canada.
A ceremony of remembrance celebrating the life and achievements of the Founder of Taekwon-Do General Choi Hong Hi was held in the gardens at 33 Leone Lane, Brampton, Ontario, Canada, Saturday, August 17, 2002