Tae Kwon Do Patterns
(Main Menu)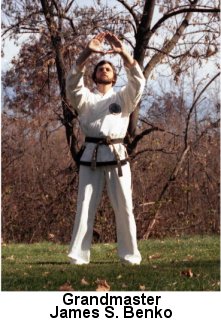 What Are Hyungs (Patterns)?
There are many requirements for advancing in rank but how well a student performs his hyungs (patterns) may determine if he will pass or fail.
With Which Pattern Does Each Rank Train?
This chart indicates the hyung (pattern) required to be learned in order to advance from one rank to the next. Also includes "sound" pronunciations for each pattern.
Question And Response Sequences
You may view the question and response sequence for a pattern by left clicking on the name of the pattern located on the left-hand side of this page.
Pattern "Chon-Ji" Step-By-Step
Includes step-by-step photographs on Tae Kwon Do's first pattern, "Chon-Ji".
---
ITA Home Page
Copyright © 1974- James S. Benko and ITA Institute.
All rights reserved.