What Is "Han Kuk Mu Ki Do™"?
Han Kuk Mu Ki Do™

is the study of the Traditional Martial Arts Weapons of Korea founded by Grand Master James S. Benko, Ph.D. (10th Degree Black Belt) (see biography). in 1976, the year he founded the World Han Kuk Mu Ki Do Federation™. These weapons were primarily common, everyday farm tools or other items, such as the ji pang e

(cane), jang bong

(long staff), jung bong

(middle staff), tahn bong

(short stick), tahn do li ga

(short flail "nunchaku"), jang tan-do

(long daggers "sai" in Japanese), kal

(knife), nat

(sickle), cha-ru

(handle "tonfa" in Japanese), and several other weapons.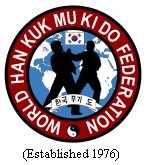 The Art of Han Kuk Mu Ki Do ™ includes the techniques, tactics, and hyungs (patterns) which are used in learning these traditional weapons of ancient Korea. Just because an individual holds the rank of black belt in a Korean mu do (martial art) does not mean he or she is proficient in the use of traditional Korean weapons. It takes a great amount of time and commitment in order to develop the skills necessary to become proficient with Korean weapons. Grand Master Benko has been studying Korean weapons since 1959 and is one of the leading experts in the world in this field of study.
No matter what style of Korean martial arts you study, you may now enroll in the Han Kuk Mu Ki Do™ Program and work toward receiving your Black Belt in the Art of Traditional Korean Weapons. Once you have been awarded your 1st degree black belt in Han Kuk Mu Ki Do you may apply to become a Han Kuk Mu Ki Do™ Instructor and begin teaching the Art to your students. You may also enroll in advanced programs and proceed through the black belt ranks to Master in Han Kuk Mu Ki Do™.
Back To Menu
Top of Page